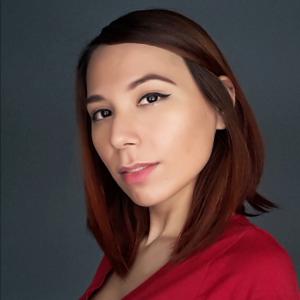 Ashley Lo Russo
Ashley Lo Russo is a Lab Technologist and an independent animator based in Montréal, Canada. She toggles between the animation, tech and makerspace scenes and has become a jill-of-all-trades by knowing motion graphics, compositing, video editing, 3D printing, laser cutting, character design, stop-motion animation, puppet making, prop-making, digital painting, and teaching. Ashley holds a Bachelor of Fine Arts from the Ontario College of Art and Design University (class of 2015) She is also the founder of the animation collective: RotoJam
---
When I'm not making art, I'm (a) ...
Digital Design Technician (DDT for short) My day job is to 3D print objects and teach people how to 3D print their own objects. I usually tell people I'm a DDT by day and animator by night!
Which piece of art you've created is your favourite, and why?
The work I'm most proud of right now is my most recent stop-motion clip. I spent the whole summer animating footage I had of dancers with tiny pieces of colourful chocolate. I had to use tweezers to move each chocolate one millimetre at a time in every frame. It was tedious and time-consuming, but the results were better than I expected!
Who do you consider a genius?
A classical animator named Richard Williams whom I've had the honour and privilege of meeting at Annecy 2013. He's a genius at animating and his perseverance is exemplary.
Favourite artist(s) right now
Alexander Jansson (illustrator), Naoto Hattori (oil painter) and Peter Gric (painter) are artists I'm following right now. Their work is surreal, fantastical and other-worldly.
Why is art important to you?
I think there's something inherent in me that makes me want to love and create art. I feel like I'm going to explode if I'm not making something. I go through different phases of making work as well. For example, I was really into drawing last winter, then I started making puppets for stop-motion, then I was animating chocolate, and finally, I'm making motion graphics in After Effects. I feel like it's important to keep those creative juices going, no matter what medium you choose.
Why is it important for people to have art in their home or life?
I think it's important to be amazed and awe-struck when looking at a great piece of work every once in a while. Whether it be film, animation, illustration, looking at Instagram or visiting artist tables at conventions, there's something about good art that keeps us entertained and interested in what we're looking at and that's also why I think people want to buy art for themselves.
What do you mean, "try"?
Try-before-you-buy with a 3 month rental. 100% of your rental payments go towards the purchase (interest free). Message the artist directly, and start the conversation.
---
Art made (truly) affordable
We make it easy for you to try art with smart payment plans and try-before-you-buy models.
See How It Works
---
You're covered.
Artwork protection is included on all art rentals up to $5K. Our Customer Care team is always here to help.
Contact Us
---
Unlock Trade Access
For industries including interior design, film/TV production, & real estate staging: rent original pieces that fit with your project vision, budget and timeline.
Apply for Trade Access
---
1% from every transaction goes towards SKETCH WORKING ARTS.